Lake Region Sailing Club
2007 Lake Region Sailing Club Awards Presentation
Download
a video. (File size is about 75 MB. You can view this file on Windows Media Player.)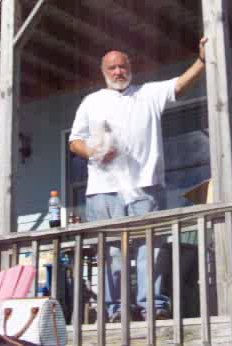 Rob Knowles, Commodore of the Lake Region Sailing Club: "For those of you who had to race against him, you can remember that when he first started out, he was a real pain in the a__, but you could always catch him on the last leg...but then things started to change and nobody caught Dave, and Dave owned all the marks. He always finished 1st, 2nd and 3rd on A, B, and C. He didn't always win the race but he always owned the marks and we always chased him around and, when you got to that last 100 yards, most of the time you just didn't catch him...He was a h___ of a sailor and he's going to be missed and he was missed, I know, this year...The first race I did get a kick out of the fact that Dave Stuart, in fact, finished first in his class and had Dave Thompson on board with him and, as he crossed the finish line, he dumped him in! That just seemed appropriate that Dave got to finish just one more time -- first!"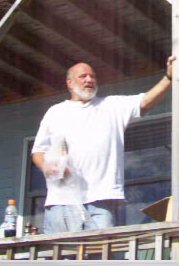 "Keeping in mind the spirit that Dave portrayed which was an absolute total commitment to sailing...I always got a kick out of it...I used to look at his life jacket. feeling that if he fell in, it would take him to the bottom...and he would smoke cigarettes going downwind....well, it was better than going upwind! Anyway...he had a passion for sailing that was unmatched in this club and he was always willing to help somebody else learn and would take the time and help people...Dave Stuart...he became a mentor for him and he did a great job. And Dave's still hanging in there and he finished second in class this year...so, what I had to do is pick out somebody who exuded that education and spirit of racing and...enthusiasm....and there's a half a dozen people I could have picked but, this year, I picked out Mark Cotton because Mark gave up one of his own races to race with Doug Wall and Doug sailed a lot better when Mark was onboard and it really gave him the confidence to go out and do well and the last Tuesday night race he did pretty...well on his own, so I want to present this to Mark...."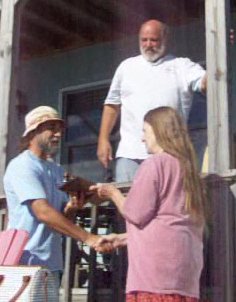 Lani Thompson presents the trophy to the first winner, Mark Cotton.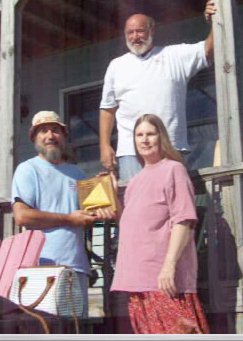 Mark Cotton, Rob Knowles, Lani Thompson