International Sunfish Class Association
2007 Worlds Awards Ceremony: Presenting the Dave Thompson Memorial Trophy
Download
a video. (File size is about 31 MB. You can view this file with Windows Media Player.)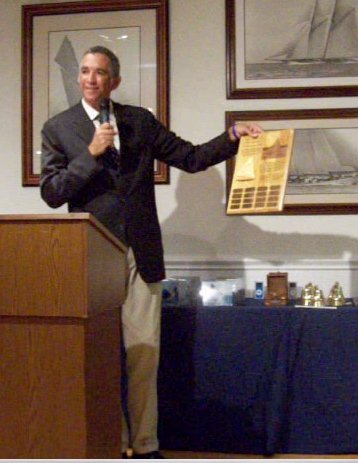 Andres Santana, International Sunfish Class Association president showing the perpetual trophy.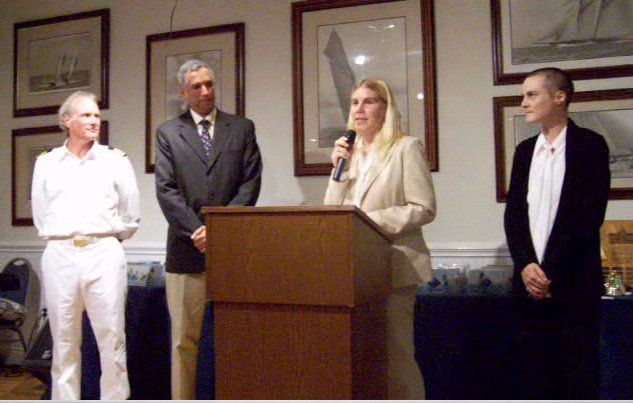 Dave's daughters, Heather Woollard (at the podium) and Lindsey Thompson-Rowell (to Heather's right) attended the awards ceremony in order to present the trophy. Paul Coward, Commodore of the Brant Beach Yacht Club, is standing on the far left of the podium next to Andres Santana. Thank yous were given to Mr. David Coward, Chairman of the Regatta and the Organizing Committee, Terry Beadle, Class Administrator, Andres Santana, ISCA President, and Clinton Edwards, USSCA President. A heartfelt thank you was given to Andres Cana Alva, the sailor who tried to help Dave after his heart attack at the Worlds in 2006. Finally, a special thanks was given to Dick Tillman. Dick was someone Dave deeply admired and respected and during the past year our family has come to understand why.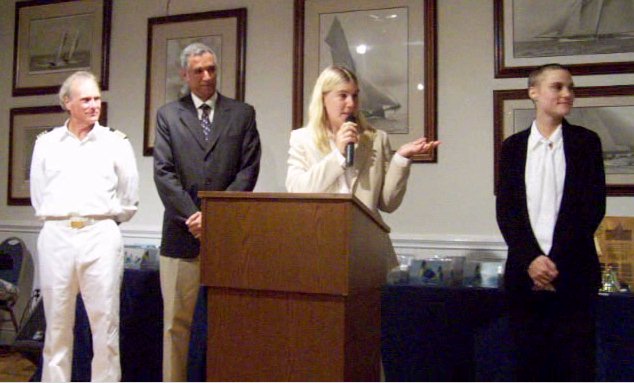 Thanking the Barrington Yacht Club. Dave loved sailing with these guys and we're happy that they've agreed to host the trophy.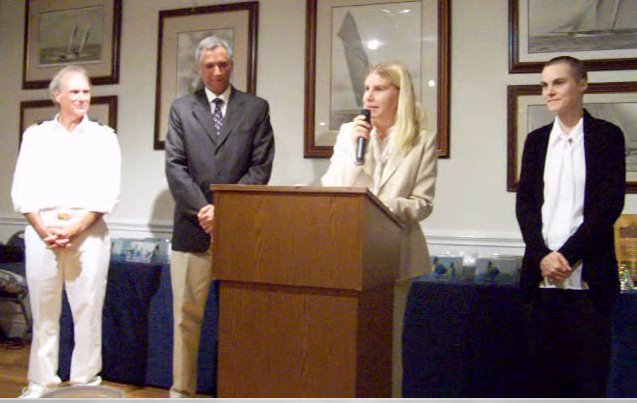 Heather says: "I just wanted to share a little bit of my father and I have a quote here from something that he had written about how he felt about sailing. Someone had once asked him, "Why do you sail? What draws you to the sport..."
(He replied:)"That's like asking, 'Why do you breathe? Why do horses gallop across their paddocks? Why do dolphins surf bow waves?' Every answer I can think of is inadequate. I know that I can become a master sailor, but never master sailing. The challenges are endless and fascinating. Every sail is different and never what you expected. To sail well, you need a 'seat of the pants' understanding of the physics involved that transcends mere numbers and formulas. It is not enough to know which course is probably best, or have a feel for what the wind will do next. It is not enough to out think your competitors and choose the right tactics. You must dance with wind and wave, hull and sail until the magical moment when everything is balanced just so and the boat starts to hum and then virtually leaps from the water and flies. Freedom. Undiluted joy. That's the secret that sailors share and probably why we can never get enough of it."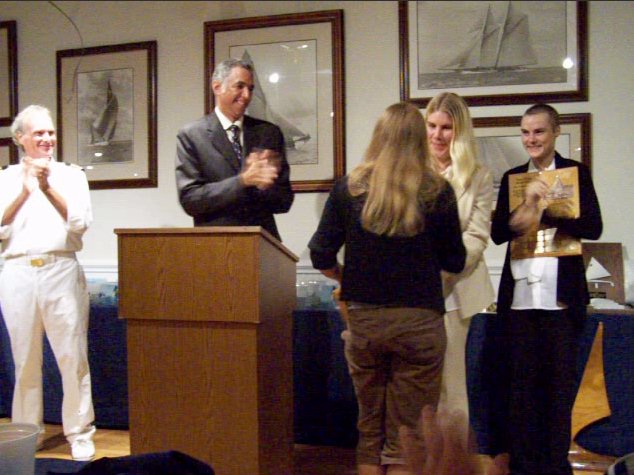 Presenting the trophy to the first winner, Chelsea Katz.