Articles/Interviews
This interview appears in the December 2003 issue of the Clan Thompson Celiac Newsletter. To learn more about celiac disease, click here.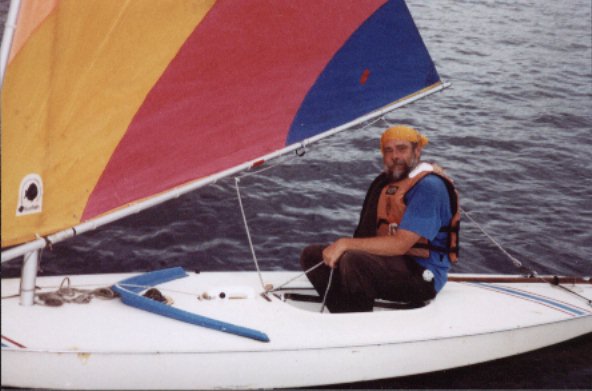 Dave - August, 2003
Dancing With White Horses
an interview with sailor-composer David D. Thompson
Clan Thompson: Why do you sail? What draws you to the sport?

Dave: That's like asking, "Why do you breathe?" "Why do horses gallop across their paddocks?" "Why do dolphins surf bow waves?" Every answer I can think of is inadequate. I know that I can become a master sailor, but never master sailing. The challenges are endless and fascinating. Every sail is different and never what you expected. To sail well, you need a "seat of the pants" understanding of the physics involved that transcends mere numbers and formulas. It is not enough to know which course is probably best, or have a feel for what the wind will do next. It is not enough to out think your competitors and choose the right tactics. You must dance with wind and wave, hull and sail until the magical moment when everything is balanced just so and the boat starts to hum and then virtually leaps from the water and flies. Freedom. Undiluted joy. That's the secret that sailors share and probably why we can never get enough of it.

Clan Thompson: What's the biggest challenge you face as a sailor?

Dave: Money. As your skills and confidence increase, the best way to learn more is to sail with better sailors and that requires equal equipment. I am living proof that it is possible to sail competitively on an extremely limited budget, but that will take you only so far. After that, you need help from people who believe in what you're doing. The very title of Captain implies that you are very used to taking care of things by yourself. The challenge, for me, is to accept the fact that if I want to go as far as I can in the sport, I must seek help and take it graciously. I would not be racing now if not for the generosity of fellow sailors who believe in my talent. Typical of sailors, they ask only that I sail fast, sail well and pass it on.

Clan Thompson: Has celiac disease affected your sailing? If so, in what ways? How do you cope?

Dave: Deeply, in both good and bad ways. Of course, I am more prone to fatigue than other sailors but that means I've had to concentrate on skills rather than brute strength, which is a good thing. I suffer from a lot of the autoimmune and neurological side effects of CD on land. On the water, the pain levels go way down, I limber up, my coordination and range of movement improve, and I just generally start feeling better. So, rather than coping with CD in order to sail, it's more a case of sailing to cope with CD.

Clan Thompson: What do you hope to accomplish as a sailor?

Dave: I have already accomplished far more than I dreamed possible. Each racing season has brought more success than the last and that has expanded my dreams. I want to see how far I can go. I want to introduce more and more people to the sport. I love to teach people to sail. It's a lot of fun to give a gift that will last a lifetime.

Clan Thompson: What are your future goals?

Dave: I would like to gather enough high place finishes in national and international events to establish my credentials as a racing coach. It would be nice to be paid for what I can't seem to stop doing anyway. Last season in my local club I was slowly passing a large yacht on the reach when I noticed his jib was not pulling efficiently and I yelled my advice. Highly frustrated at being passed by my tiny little boat, he tried my idea, beat me to the leeward mark and the finish line knocking me out of third place over all. So it goes.

Clan Thompson: What kind of sailing do you do, and can you explain something about it for those who aren't familiar with the sport?

Dave: I race a Sunfish. Think of a large surf board with a small hole in the deck for your feet with one large sail and very simple controls. Locally I race in a handicap fleet with mismatched boats of all sizes and types from dinghies like mine to full blown racing yachts. A handicap time is assigned to each boat based on its speed potential. I also race with the International Sunfish Club where all the boats are supposed to be exactly alike and rules are very strict. The idea in both cases is to remove the boat from the equation and find out who the best sailor is on any given day.

Dave: We generally race around a triangular course a few miles long that tests sailors and boats on all points of sail. Much of the action happens at the marks or buoys that designate the corners of the race course. Often, too many boats are trying to occupy the same little piece of water at the same time. It gets interesting. Last season at a regional Sunfish regatta on Cape Cod I was part of a pack of no less than 23 boats all claiming the right to round the gybe mark first. I got away third or fourth with only a few new scratches on my hull. This is a very competitive sport.

Clan Thompson: Are there any sailors you particularly admire? Why?

Dave: Dennis Conner comes to mind first. His professionalism and drive are as legendary as his accomplishments in the America's Cup. What always impressed me was his boat handling. Fast boats come alive in his hands and he had the exact amount of controlled aggression needed to win the starts that are so necessary to win sailboat races. Dawn Riley has not only proved that in this sport women can compete on an equal footing with men at the highest level she also has a very deep understanding of the nitty gritty of racing tactics. Besides, she gets it. Sailing is fun, no matter what the stakes are.

Clan Thompson: What's your background as a sailor?

Dave: I always loved messing around with row boats and so on, but never got to sail until my dad bought an old leaky homebuilt 22 footer. Being absolute neophytes without a clue between us we saw no reason not to head straight into the North Atlantic for our first sail. The seas were running 5 to 8 feet with a brisk breeze in the 20 knot region. I had a blast. I was hooked and soon bought a 9 foot sailing dinghy that I took out at every opportunity.

Eventually my dad and I traded boats and our whole family could sail. (It's hard to fit 5 kids and a wife in a 9 foot dinghy!) We got out 2 or 3 times a week for several seasons. The only mooring we could afford was in the lower end of the Merrimac River in Massachusetts, with tidal currents you have to experience to believe. We learned fast. At about the same time I heard of a free sailing school farther upriver. The local Red Cross had obtained the services of an Olympic sailor to teach sailing to all comers with donated dinghies and volunteers. Long story short, John had canceled all lessons due to high winds the day I showed up and showed him a picture of Silkwind, the leaky 22 footer. He challenged me to a match race with Phantoms (very similar to Sunfish, but faster) in 25 plus knots. I won. He made me assistant (unpaid of course) instructor and I enjoyed the whole thing tremendously.

Life did as life does and interfered with my sailing. Silkwind was traded for a woodstove for our homestead in Maine. For years my only sailing was in my constantly growing collection of sailing books. Then there was this sign at the side of the road. Free Boat. No rig, no sail, cracked hull, broken centerboard. It was beautiful. I went scrounging. Eventually I was given a wrecked hang glider, old TV antenna mast, pieces of a stove-in wooden dinghy, and a bucket of left over rusty screws. Two or three days later I was sailing again. Not too long after that we traded an old camper for an antique Sailfish. I bumped into Mike & Moe who have a sail boat charter business locally and they told me about the Lake Region Sailing Club. I raced the Sailfish for a couple of years until Rob Knowles, our commodore, declared that I needed more boat and gave me a Sunfish hull that had been rescued from the dump. I still race that ancient boat I have named LoonSong. She is tough and fast and one of my best friends.

Clan Thompson: What's your background as a composer?

Dave: My mother is a choir director, organist, and pianist. My dad could play any brass instrument with a great deal of skill and has a great bass voice. There was always music around, which is natural enough in a preacher's home. More importantly was a sense that good music has value, that it's worth working at. Of course there were piano lessons and high school band which I despised and for me that was the message. It took me a long time to hear it. At my debut piano recital I was supposed to play a transcription of Beethoven's 5th, 1st Movement. Da, da, da, Dum. After the first page and a half I froze, blanked, couldn't remember a note so I made it up. I improvised for a couple of minutes, suddenly remembered the last page, played it and swore to myself that I would never perform in public again. I think I was twelve years old. About ten years later I started writing folk tunes to go with my wife's poetry and it just snowballed from there. I finally realized that only my mother and my piano teacher probably noticed that I wasn't playing the right notes during that traumatic recital. Something in me understood the guts of what Beethoven was saying musically. That meant that all that music I keep hearing in my head might be worth working at and writing down.

Clan Thompson: What kind of music do you write?

Dave: Good, grief, another unanswerable question. I suppose long after I'm dead and gone they will pin some kind of classical label on me. Technically, most of what I write is Newage. Which is to say that in some way it's experimental in form and embraces electronically made instruments as well as acoustic instruments. I have written everything from Country tunes to a symphony, but like all artists I am very uncomfortable with labels. I don't like being hemmed in.

Clan Thompson: Which composers do you admire? Why?

Dave: Beethoven for his musical courage (yes, even though I often disagree with his execution), Bach for his mastery of the musical language and exquisite sense of beauty, Verde for his unbound melodies, Mozart for his sonority, Vivaldi for his sense of motion, Mahler for his madness, the list goes on and on.

Clan Thompson: What do you find exciting about your own music?

Dave: When it moves me. Music is the language of the spirit. If it does not hit you where you live, it is of little use and less value. Music without the power to alter our perception of everything is just organized noise. If it moves me and I communicate even a little bit of that to you, then both our lives are enriched.

Clan Thompson: Your new CD, Dancing With White Horses, has a definite sailing theme. Does sailing inspire all of your compositions? Conversely, does your music inspire or affect how you sail?

Dave: Yes, no, both or rather they are both inspired by my perception of the universe as an incredibly complex dance of forces where sometimes 1+1=3. The sum is far more than the parts.

Clan Thompson: How did you come up with the title, Dancing With White Horses?

Dave: When the wind pipes up enough, 20 knots or so, that some of the waves start to break and curl leaving streaks of white foam. Sailors call those breaking wave tops, white horses. It's a sign that danger lurks and it's time to really pay attention to what you're doing. It's also opportunity. Properly handled, a dinghy with enough wind available can be coaxed into jumping over its own bow wave and surfing down the front of it. You are no longer limited by the mathematics of hull drag and skim over the water at high speed. A couple of years ago as my confidence in LoonSong and myself grew I started dancing with the white horses in the middle of a race, adding each wave's energy to my speed, getting into the rhythm of the waves and the wind puffs it all came together and I finished near the front of the fleet. I've never looked back.

Clan Thompson: I understand that sales from your new CD are going to be used to fund your entry into the Sunfish Nationals competition being held in Florida this March. Can you tell us more about that?

Dave: It just seems natural to me to gather my old and new pieces that speak to the sailor in all of us to help finance "the other side of the coin", so to speak. Sailing and music are all about directly experiencing our fundamental relationship with the universe. That seems like a good thing to do.

Clan Thompson: Is there anything you'd like to add that I've neglected to ask?

Dave: Yeah, why was this interview tougher than writing a symphony or winning a sailboat race?
---
Editor's Note: If you'd like to help Dave get to the Sunfish Nationals - or another regional or national competition this year, you can purchase his new CD, Dancing With White Horses for $13 here. This CD has 12 compositions (40 minutes of listening time). One song, Sailing Free is available to download as a FREE mp3.
To visit Dave's sailing page, go here.